This little CB350 twin is a very personal bike. It's the first streetbike I've ever owned, bought shortly outta high school. Got it for $300 from a newspaper ad. Heh! She's gone thru many iterations over the years, from simply a rattle-canned stocker, to a fully rebuilt cafe-racer, to it's current form of StreetTracker. I'd have to dig-up old pictures and scan em sometime, for posterity.. Only 'old' pic I have, from '96:
Back then, it was fairly stock, although it had gone through a frame-up rebuild. Powdercoated frame, motor, big-bore pistons (Todd Henning Racing) cam, Mikuni carbs... It was nice. But come 2007, it was getting a little dated. Needed some stuff, too. After going through Hurricane Katrina, it needed clean-up BAD. Again, another bike in the Confederate Factory when it collapsed. Didn't destroy it, but made it in dire need of attention.
Rather than yet another cafe-build, I decided that it needed a different direction: Bobber? Sled? Enduro? heh! I'd always liked the Yammie 650 'trackers... So, after gathering some pics of fun bikes online, I started tearing it down. Got it all apart, cleaned everything, and started identifying things to change. Motor: Good. New gaskets/seals, fresh elbow-grease... Frame: Not so good... Clean, smooth, re-coat satin black. Bodywork: Bleh... Sourced a 'tracker tail (Vintage Glass) and new headlight ('50s Ducati) and some other bits to make the change... Also needed to change some things around; Battery, moved under tail, electrics all new, fenders, foot controls etc.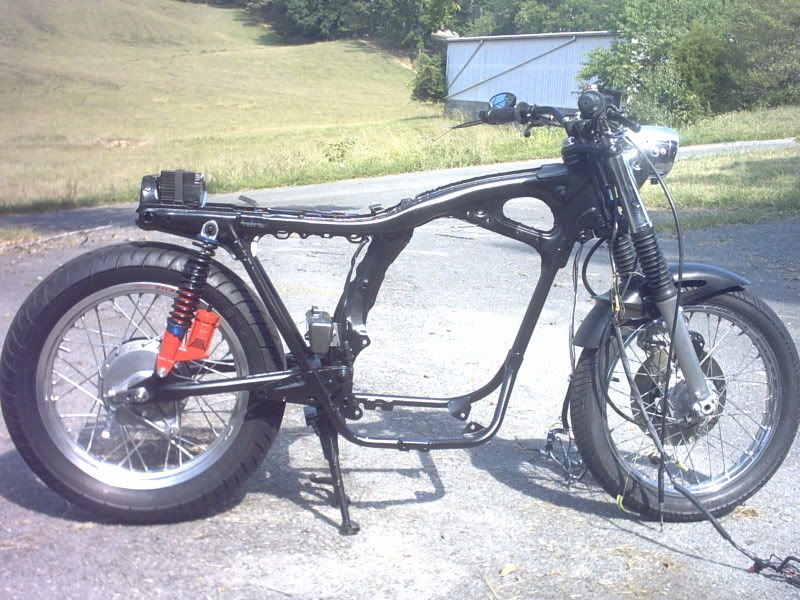 Here's a shot after suspension, and major frame re-assembly. Vintage Marzocchi shocks on the rear, battery tray already in place, and Rizoma low-rise handlebars. New Satin black p-coat is very smooth.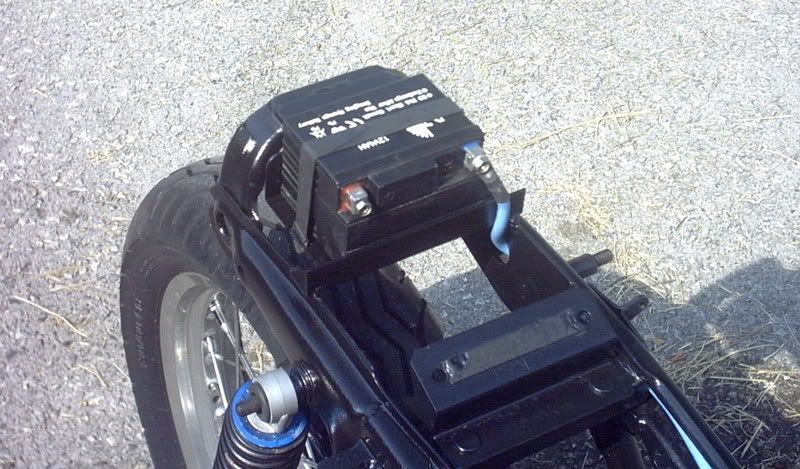 I deleted the electric start, and most of the other electrics not required to run, simply to facilitate a smaller battery: This allows it to live under the small confines of the 'tracker tail, and room for other electrical devices to completely clear-out the under seat area.
Parts everywhere. Motor all clean, resealed, (starter still in place) and footpegs/linkage parts (Buell S-3T)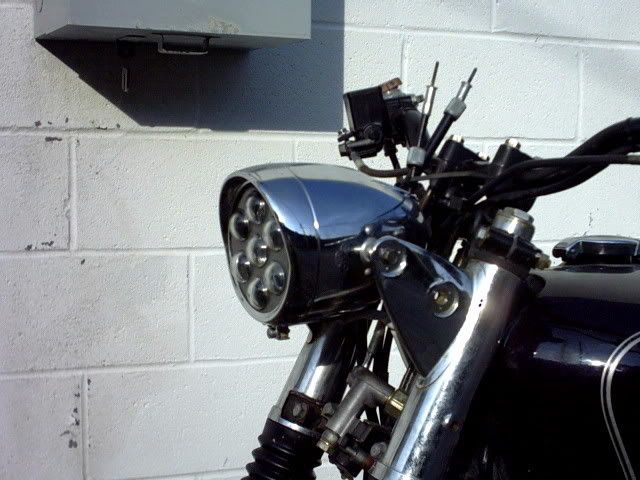 Funky-cool Ducati light. 4" diameter, with a Lexus SC style lens. 2" Mechanical-drive Tachometer fits into the light-shell.

Fitting the 'tracker tail to the tank, and fitting the seat-surface. You can see the emptyness under the seat, here. CL pipes, wrapped with 1" HPC wrap, and shifter linkage/footpeg.

After getting her all back together, and tweaking some stuff, I've realized that there are still a few changes to be made;

1) Going to relace the rims, with new DID hoops, anodized in black, rear brake needs some love while the wheels are out

2)while I am a fan of pin-ups, the sticker-thing just isn't cutting it. Wrong scale, funky placement, and too-common an image. (see below)

3)I like sticky-tires. I like Metzelers. BUT- I'm going with some 'dual sport' type rubber when the wheels are done. 130-18 Kenda 80% street dual-sports. Aggressive lugs, and very 'tracker-looking.

pic courtesy HSTA website gallery, 2008 Erwin, TN weekend