Ok, to start out, I have to tell y'all where it started...

Back in 2003, after fleeing AZ to TN, I was bike-less. I searched half-heartedly for 2 wheels, but wasn't finding anything I liked. So, one day on E-bay, I was looking, and got over into the CB's. This one was in SD, had less than 10k on the clock, and hadn't been registered since '87. $625 later, it's being shipped by FedEx to Knoxville.
Got it, cleaned it, and found it to be 95% original. Pretty cool, but not really what I wanted... Cafe time! Stripped it, found the tank to be garbage, so first thing was to find a tank. Now, I'd already made sure the motor turned over, had compression, etc... Rice Paddy had a tank, in GREAT shape... $50! Meanwhile, got the carbs off, rebuilt, and did the usual tune-up shite..
Got 'er running that same weekend. Now I had to make a list of stuff to replace. Tires.. Chain.. Cables.. The usual. Took a week for all my parts to come in @ work, so I sent the bodywork to a friend of mine to get painted.
Wanted something different, so we started with a fighter-plane theme, but didn't get too crazy. No rivets, etc.. Just a nice gunmetal grey. My tattoo artist hand-painted the 'devil-girl' on the tank, then we clear-coated the whole thing. Seat: Stock pan, cut to shape with a knife, and $40 later, the local hot-rod guy stitched me up a seat. Some clubman's lying around went on, then I found an old Yoshimura pipe at a garage sale. Fit great, but was WAAAY long. Cut the meg, slipped in a V&H race baffle, shot it high-heat black, and it was done!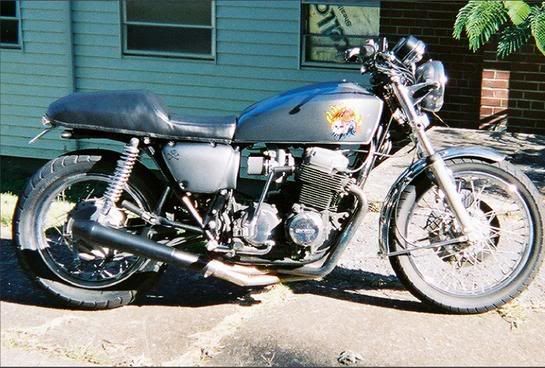 Here's the weekend it was on the street: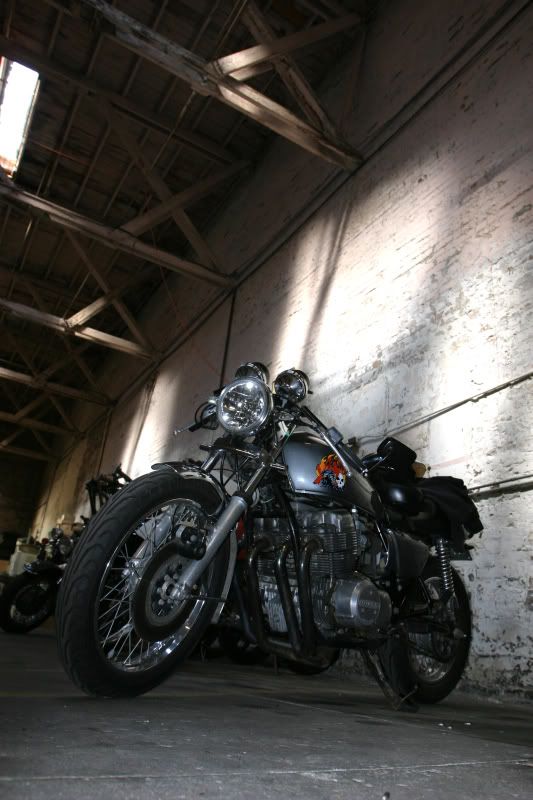 Rode her that may until Katrina hit New Orleans. She was in the Confederate factory when the roof collapsed. Fuk. Done, right? Amazingly, it was still standing upright in 1.5ft of water, with building rubble all around her! Took a long time to fish her out, but she'd survived!

fast forward: January 2007, I decided to address the leaking head gasket on #4.. Motor's gotta come out. Damn. I'm a really bad person about this crap... I can't leave well enough alone. I knew by pulling the motor, I'd be starting down the long road of restoration.

the long list of mods/things done:
Complete disassembly. Stripped her.

Complete tear-down of the motor. Split cases even...
Powdercoated cases, jugs, head, all covers...
Bored out for a Wiseco 836 piston set.
Knife-edged/balanced crank.
All new bearings. Seals. Gaskets. BTW, David Silver Spares in the UK is AWESOME.
New Barnett clutch.
Upon re-assembly, all engine wiring is now internal.
Frame has been trimmed of all excess BS, gusseted and welded up. Oily-wet black powdercoat.
Tarrozi rearsets, Steering stabilizer, and sealed bearings thruout the entire frame.
New (made by me) wiring harness. Modeled after the Hellcat harnesses...
Solid-state reg/rectifier. DynaII ignition. New VTX 1800 coil set.
LED lights- Lazer star tails, Rizoma signals. Azure headlight with PIAA 80/110 Superwhite bulb.
WMD Combiguage. Nice fuggin unit... (no longer available, see
Motogadget
)
Buell/Ducati handlebar controls. Needed an updated look, and reliability.
ISR calipers. Spiegler brakelines.
Supermoto Wheelset. Dropped to 17" hoops, but GAINED some sick tire profiles: 120-17, 160-17. Yes, a 160 will fit a stock swingarm!
Penske Coil-over shocks. Same as Hellcats... Beginning to feel a theme?
530 o-ring chain, new Rebel Gears' sprockets.
Carbon fender on rebuilt (modified) stock front forks.
And lots more.....
See the original build-thread (complete with broken/missing pics)
Here
More Build pics: